Aerie Celebrates Inclusivity In New Campaign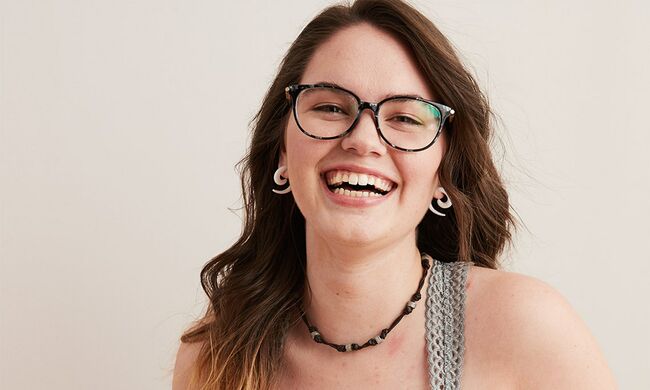 Aerie is changing the fashion industry once again with an incredibly special new campaign. The fashion retailer's new campaign features models living with various disabilities, conditions and illnesses. The pictures shows gorgeous models in wheelchairs, with arm braces, and who use insulin pumps and J-pouches rocking Aerie's lingerie. This inclusive campaign celebrates the beauty in our differences and the responses to the photos have been overwhelmingly positive.
This inclusive campaign is so important because it puts a spotlight on women who are so rarely celebrated in mainstream media. Women have been celebrating this long-awaited representation on social media, sharing message of what this marketing milestone means to them.
One of Aerie's new models, Abby Sams, shared some shots from her photoshoot on Twitter. Like many of Aerie's consumers, the campaign was just as empowering for Sams. "Aerie just sneakily released some of my photos! Look at this disability representation people!!!" She captioned alongside some of the photos. "Also look at me because I cant believe it's actually me so yeah."
Abby shared photos of some of the other models from the campaign on her account, as well, writing that the group included a cancer survivor, a Paralympian with down syndrome, and a model with fibromyalgia. "Their work in chronic illness and disability representation this campaign was real and amazing," Abby praised her fellow models.
If anybody has ever questioned where diversity in marketing campaigns matters, the proof is in the responses to the new images. "Seeing this from the [Aerie] website means so much to me. This model not only is beautiful, but has the same type of disease as me," one Twitter user wrote. "I love seeing diverse representation."
One of the best parts of this campaign, Bustle points out, is that Aerie sprinkled the photos throughout their website. Their isn't a special page that keeps these new shots separate from their other campaigns. Consumers will see these images just as they would see any other product shots on Aerie.
We can't wait to see other brands take their cue from Aerie and begin to celebrate diversity in their campaigns. Whether it's size, color, gender or disability - it's so important for everybody to see themselves represented in mainstream media. Bravo, Aerie. Bravo.